Happy Thursday lovelies!!!
For today's Bloggie Bestie blog swap our LONG TIME BLOGGIE BESTIE, the lovely
Ami of AliLilly has a FUN tutorial to share!!!
Please leave her some bloggie love friends!!!
And when you're done, check out my guest post over on her blog today!! 🙂
Here's Ami!
Hello awesome TL readers!!! It's Ami with AliLilly stopping in!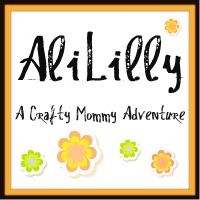 Now, since I was here a while back doing a swap with TL, I thought for the Besties Swap today, I would give y'all a fun little tutorial!! Y'all know that Kassi is SOON to become a Mrs., right? Did you know she is making tissue paper pom poms for her wedding?? I made some last weekend for my sweet Alie's 3rd birthday party. But I ALSO made some of the tiniest tissue paper pom poms for her cake. I thought it would be fun to share that tutorial with y'all.
SO, you could call this the "How to make the tiniest tissue paper pom poms ever!!!
First cut your pieces. I used a little cup for her plastic kitchen set to measure the width of the paper. I knew the cup was about the size I wanted my pom poms to be. I cut the tissue until I had 8 sheets laying on top of each other.


Fold the sheets accordion style.


I took a few twisty ties and torn off the plastic to expose the wire. Then cut the wire to fit.


Wrap it around your folded tissue paper.




CAREFULLY lift up each layer of paper and spread out.




When your done you should have a bunch of these cuties!




I hot glued mine on to a strip of twine.




Tied the twine around some sticks…




and TA-DA!!!! You have a super cute pom pom banner cake topper!




Here is a few more pics which include my sweet lovely birthday girl herself! My Alice Marie!!




The inside layers of the cake match all the colors of her party!!! If you'd like to see that or up coming tutorials on the decorations of her party, please stop by my blog and say hello!!!
http://alililly.blogspot.com/


Thanks Kassi and Kayli for having me over today!!




THANKS SO MUCH to AMI for being this week's BLOGGIE BESTIE!!!
And for sharing her tissue paper pom pom tutorial with us today!


Happy Birthday to Miss Ali Marie!!!


Have a lovely day all!!!