Hello Dolls!!! Wow! Monday seems to have gotten away from me!
I was sitting here realizing it was almost five o-clock… Then it hit me! Features! Bah!!!
We had over forty link ups this week! You ladies continue to impress me! 🙂
Thanks so much for taking the time to visit Truly Lovely to share your fancies!!!
Check out the before and after!!!
Lovely!!! I have pillows all over my to do list! 🙂
With stuff you probably have in your kitchen!!!
Here's a button for you featured lovelies! Hope you'll share it on your blogs!!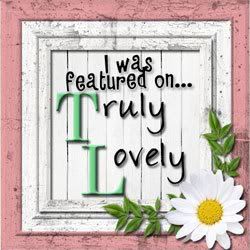 Thanks to EVERYONE who linked up here at another week of Fancy This Fridays on Truly Lovely!
Can't wait to see what you share this week!!
Have a lovely week friends!!!