Well hello there Monday. Where'd you come from…
Sheesh. Weekends go by TOO fast these days!
We had a LOVELY weekend with the family, so a post will be coming about that soon! 🙂
But for now, our features from this last week's Fancy This Fridays!!!
HAD to feature this FUN spider web pillow cover! It's nearly Halloween after all…
She's up and coming peeps… Be sure to check out her blog!
Check out this fun Halloween idea!!! I love getting snail mail!!! 🙂
Just fix up a little pumpkin, some sticker faces and send it to a friend!!! LOVE it!
And finally… How about one unrelated to Halloween… 🙂
You just roll it up and stick it in your purse!!! What a GREAT idea, right!?!?
Here's a featured on Truly Lovely button for you dolls!
I also featured a few over on our Facebook page, so if you were featured there, we would love for you to have a button as well! 🙂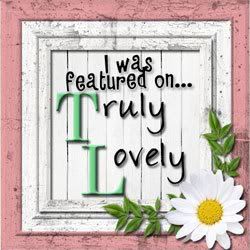 It's growing fast! Lots of fun happens over there that never makes it to the blog!
We wouldn't want you to miss out!! 😉
the winner of the Breast Cancer Awareness Mini Necklace from
Since you're email was not attached to your profile, you have 48 hours to email us to claim your prize!
trulylovely.laney@gmail.com
Have a lovely week dolls!!!