It's just a few minor things funk… Nothing life altering or anything.
One of the big ones…
I'm in a

wardrobe funk!
For my birthday the hubs took me shopping all over town for a new outfit.
After four stores I went home with one pair of jeans that I don't love.
A shirt and an undershirt tank top.
The shirt is exactly like one I bought months ago. In a different color.
I know. How trendy am I? *rolls eyes*
I was

near tears after shopping

because I couldn't find anything I liked that would fit right.
I browse through all of these ADORABLE outfits on Pinterest…
That I LOVE… but I have no idea how to pull them off for me.
Like this one…
Remember I started WIWW awhile back, but since quit. Mostly because I feel like I have nothing to contribute really. I wear the exact same outfits week after week.
Honestly… It's not even really a funk…
It's more of a…
'This is how it's always been, but it's really bothering me now for some reason' thing.
So… I was hoping, when your finished linking to Fancy This Fridays…
Maybe

YOU can share with me

what inspires you to get dressed up!
Or to go shopping! OR even just your clothes shopping tips.
'Cause I stink at it… and need all the help I can get.
Sorry to be a downer today… But this has been weighing on me lately.
OK. Enough of that. Onto Fancy This Fridays.
What've you been up to this week?
Real quick like though, before I forget…
Oh, and definitely this giveaway from this week's Bloggie Bestie, Summer!!!
OK! NOW… Fancy This Fridays.
Fancy This Fridays Party Rules!!!
1. Please link directly to the project post on your blog.
Not the blog itself.
2. Please link only your OWN posts.
We prefer to see what YOU have been up to… not someone random.
3. Please grab a button and display it somewhere on your blog.
On your sidebar, on your posts, on your linky party page.
We don't mind…
4. We would LOVE if you would comment on at least one other link.
Just pop over and say Hello, coming by from Truly Lovely.
That would rock. 🙂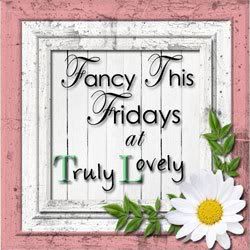 Thanks for bearing with my rant… If you got this far…
If not, that's cool too. In that case, thanks for coming by to link up.
Have a good weekend.