We interrupt your normally scheduled programming…
Hey wait! I can post twice in one day if I want to… haha.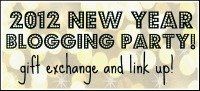 I'm popping in for the second time today because I received a lovely little package in the mail that I am delighted to share!! 🙂
And turns out the link up is TODAY!
This month I joined in the 2012 New Year Gift Exchange Party over at The Wiegand's!
We swapped emails back and forth for a few days learning we had a lot in common…
She LOVES Starbucks, I LOVE Starbucks.
And a lot not so much in common….
Her hubs is about to become a lawyer. Mine is a cowboy.
But what I really learned was that it's great to make a new friend!!! If you haven't participated in one of these gift exchange link ups I HIGHLY recommend it!
I had a great time getting to know Allison and was SO excited to receive a package of goodies all the way from Massachusetts.
Cute little bird notebook
Burt's Bees Chapstick (with SPF, perfect for the AZ sun!)
And the MOST adorable little handmade clutch!!!
You want one of those clutches right??
Well, you're in luck because Allison is hosting a giveaway over at her place TOMORROW for a cute little pocket clutch that she made as well!
You can also click over to this link to see what I sent her! 🙂
Hope you're having a lovely day friends!