Hello dollfaces, it's Kayli! I can't believe we're already more than a week into 2012! Fun Fact: I don't do New Years Resolutions. Yeah. I said it. I usually go into 2012 with a few things in mind- but I don't set anything in stone. EVERY day is an opportunity to change!
I HAVE decided I need to be more involved here at Truly Lovely this year though, starting with this- my very first
Fancy This Fridays
features post! So let's get started, yes?
I'm completely diggin this Fork Bracelet by Judy from What I Live For! One of a kind, super cute and I don't have to drop $30 on it! BOOM. (You also have my permission to begin using the term "diggin" starting…now.)
Amber from Salt Tree shows us how to fancy up cupcakes! Homegirl, you had me at the word "fancy." But when you mentioned pumping Nutella into a chocolate cupcake- I was more than sold. *picks up jaw and wipes drool from mouth* Mmmm.
Rose and Heather of Sew Stylish Boutique shared their fun Snappy Bag Tutorial on Friday and I'm excited to try it! Dude, it snaps open and closed. SNAPS! Right?! You know that rules.
Here's a featured button for you lovely ladies!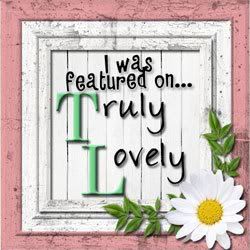 Well, I'm off to enjoy what's left of my winter break by doing as little as possible! 😉
I hope the rest of your week is as lovely as you are!
She's sharing a WINTER glass etching project!
Hope you'll stop by and say hey!!