Hello dolls!!!
Another weekend down! As promised we were super busy painting my living area this weekend.
By the time we were finished both Kayli and I were exhausted, sore, and covered in paint!
If you follow us on Facebook you would've seen our live updates… Like this one…
Live from the living room makeover!
The painting is done, but my house is in shambles…
As soon as I get it put back together I promise to share some after photos!
First up… I mentioned I'm looking for curtains for the living area and asked for suggestions of places to find them online….
Barbara from A Mother and a Daughter
to the rescue!
By the way, you'll want to click over and see how she added pops of color to this classic color scheme for the different holidays/seasons!
OK… we all know I'm drawn to zebra print, but HOW CUTE it that bag!!!
These SKINNY pizza rolls from
Allison at Feeding My Temple
sound delicious and SO easy to make!
And yes, the SKINNY deserved to be capitalized!!
Skinny and pizza in the same sentence isn't something you often come across….
The most viewed link from the link up?? Well, Valentines Day is right around the corner and it looks like you're all looking for some pretty Valentine ideas!!!
These lovely Valentine cards from
Steph at Crafting in the Rain
received the most views this week!!!
By the way…. Did you see she WON a ticket to SNAP!
I'll just say I'm more than a little jealous…. 🙂
Here's a Featured on Truly Lovely button for you ladies!
Feel free to share it on your blogs! 😉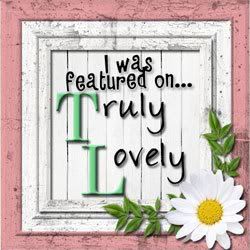 Thanks to everyone who linked up!! We had 72 links this week! Excited to see you all back here this Friday!!!
Have a lovely week friends!!!