Hi friends!!!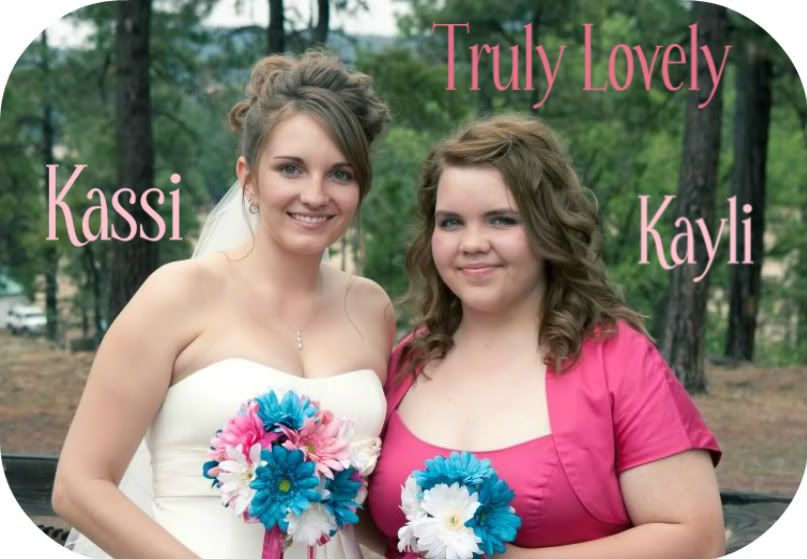 We are Kassi and Kayli!
Two sisters who just want to share a little lovely with the world.
Truly Lovely is a blog about all things we consider to be… well… lovely, of course!
We are thrilled you took the time to click over here and learn a little bit more about us! So here we go!
 ___________________________
About Kassi
I'm the older sister. 🙂 I'm a 20 something newlywed, just married in July 2011!
The first letter I ever received from my husband had his 4th grade picture inside!!!
The hubs and I met when we were young, 10-11 years old and were pen pals for several years. Like the actual pen and paper, before email pen pals!
As kids tend to do, we grew up, started sports and what not and moved on….
BUT, long story short… in college we became friends again through mutual friends and the rest is history! I still have that letter with his grade school picture. 😉
I attended college at New Mexico State University where I received a Bachelor of Science in Agriculture and an MBA.
I now work full time as a software Marketing Director in Arizona.
AND I have been an Independent Scentsy Consultant since 2008! 🙂
Nice to "meet" you! In the blog sense of course! 😉
___________________________
About Kayli
So about me… I'm Kayli! I'm currently a full time student at New Mexico State University, where I'm majoring in Secondary Education with an emphasis in Language Arts. (Which is really just a fancy way of saying, "I want to be an English teacher!") Right now my life consists of a lot of studying, a lot of paper writing and mastering the great art of looking like I know what I'm doing. 🙂
I love to bake, I love flowers, and I sing every chance I get. I have a recipe for everything, I go to church every Sunday, I paint and I LOVE to dance.
As wild as it can be, I love my life and want to help others love theirs too! Let's be friends, yes?